Here at CCi Voice, we're proud to say many of our customers have remained loyal to us for decades. And it's not merely because we keep up with current VoIP technologies, services, and installation practices—instead, these "customers for life" stick with us because they know they can count on us to go the extra mile, regardless of the situation.
While performing our regular, daily customer services actions, it's not unusual for something completely out of the ordinary to occur. One such unique instance happened 20 years ago.
In 2002, CCi Voice was tasked with installing a new 3Com phone system and wireless antennas atop the buildings that comprise Park City Communities in Bridgeport, CT. Formerly known as the Bridgeport Housing Authority, this organization plays an important role in providing affordable living solutions.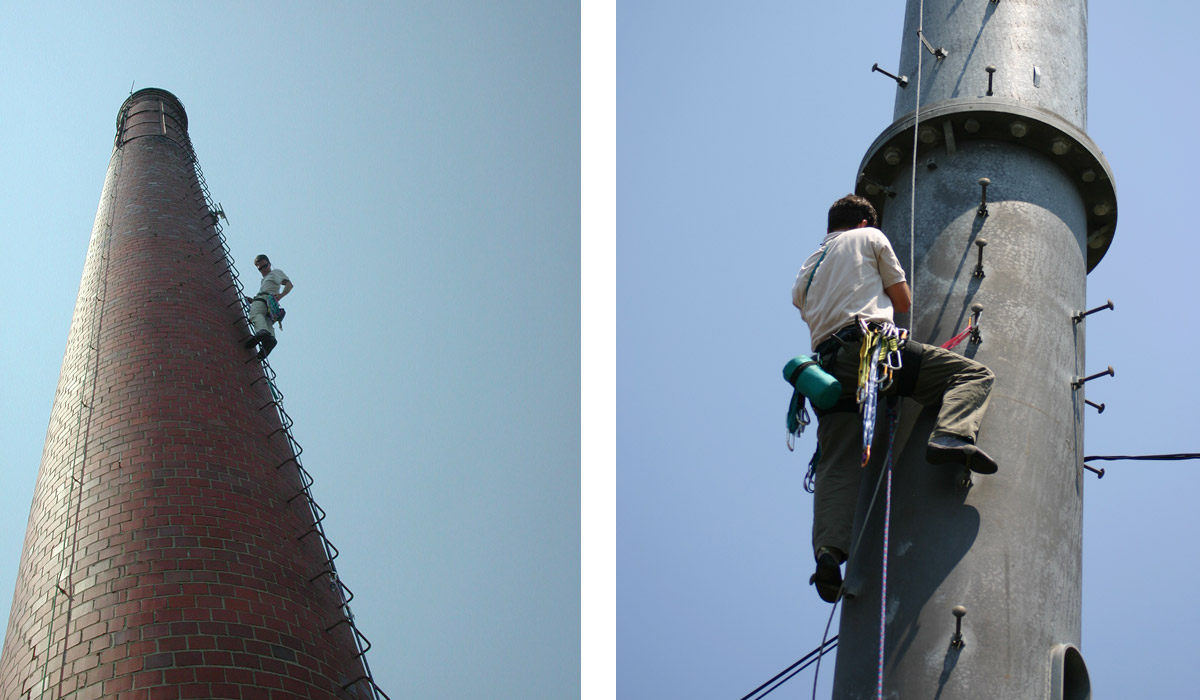 We'll climb tall buildings for our customers in their times of need!
CCI Voice Founder and CEO Michael LeBlanc (pictured)—with the help of his rock-climbing gear—scaled a 100-foot smokestack (left) and a 125-foot radio tower (right) to restore wireless and telephone communications for Park City Communities employees following lightning strikes on two separate occasions.

With 175 employees across 14 locations requiring stable telephone and wireless communications, it was paramount that this city-wide network remain consistent—without costing the housing authority a bundle in monthly operating expenses.
"At the time [2002], we saved them literally $11,500 per month in ongoing costs, says Michael LeBlanc, founder and CEO of CCi Voice. "It was quite amazing!"
According to LeBlanc, about one year following the installation, a massive storm caused lightning strikes to take down the wireless tower at Park City's main building. To ensure quick service restoration, a lineworker or other qualified professional would have to climb up the smokestack attached to the authority's office headquarters and manually fix the fried system.
But, due to the widespread damage caused by the storm, lineworkers and repair technicians were stretched incredibly thin. Park City was told it would have to wait as long as two weeks before any sort of repairs could occur. This was terrible news, as the affected tower was responsible for transferring signals to four additional main buildings throughout Bridgeport.
"This timeline was a no-go," says LeBlanc, adding that he would never leave his customers high and dry for that long, especially after a major storm.
He then decided it was best to take matters into his own hands. "I grabbed my rock-climbing gear and climbed the smokestack [see accompanying photos] with one of my employees protecting me by holding on to the rope from below [belaying me]," he explains. "The Bridgeport Housing Authority director was super excited we got them back up and running within a day or two."
LeBlanc adds that while this particular situation was a first, it definitely wasn't the last. "There was another time—about two years later—when I also had to climb a 125-foot radio tower for a separate outage," he says. "No matter what it takes, we take care of our customers, even if it means our CEO climbing 125 feet into the air to fix a problem."
CCi Voice: Consistently Going Above & Beyond for our Customers
A strong VoIP partnership built on reliable and feature-rich services is just a portion of what we offer our customers. We'll never leave you in times of need, and we'll always over-deliver the highest quality and customer service—even if it means climbing a smokestack or scaling tall buildings!